WE FULLY OUTFIT YOU WITH EVERYTHING YOU NEED!
ONCE YOU HAVE SLECTED YOUR BEST SUITED SUP, WE WILL WORK WITH YOU EXTENSIVELY TO PUT TOGETHER AN OUTFITTING PACKAGE WITH YOUR BEST SUITED SUP PADDLE, AND ALL THE ESSENTIAL GEAR AND ACCESSORY ITEMS YOU WILL NEED. ANOTHER EXAMPLE OF HOW WE FULLY OUTFIT YOU IS WE WALK YOU THROUGH ON HOW TO BEST GET YOUR BOARDS TO THE WATER AND BACK, LIKE TRANSPORTING BOARDS ON YOUR CAR, TO HOW YOU WILL STORE THEM IN YOUR GARAGE. SPEND YOUR ENERGY ON THE WATER, AND NOT ON THE LOGISTICS! ONCE WE HAVE FINALIZED YOUR ORDER, WE WILL SCHEDULE TO HAND DELIVER YOUR SUP TO YOU! **FREE DELIVERY ANYWHERE IN SO CAL!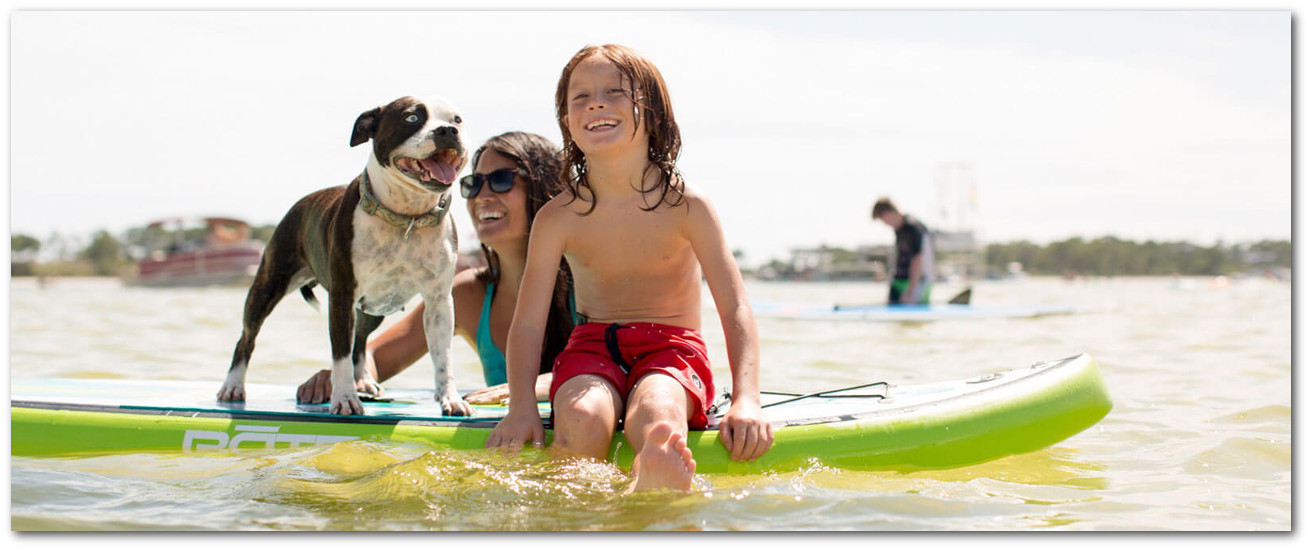 We are passionate about SUP and want to make sure your overall paddle board experience is simple, fun and exciting. That's why we go over and beyond offering the best stand up paddle boards, paddle board paddles and paddle board accessories. We are all about rolling out the SUP red carpet service that comes with ever experience with SUP TO YOU. We will get you fully outfitted with the proper gear, provide extensive instruction on the proper way to SUP, help you get your paddle board on your car and even instruction on how to install a sup storage rack in your garage.
We have all the SUP essentials as well as all the useful extras for paddle boarding so you'll be prepared for your adventure. Just let us know what you are looking to do and we will get you setup and dialed in with the correct sup accessories and equipment best suited for your activities and skills.

Stand up paddleboard gear
Stand Up Paddle Boards:
We have an extensive array of meticulously selected premium paddle boards to choose from. We carry the best paddle board brands because our goal is to provide the best stand up paddle board options for the widest variety of people. Two questions we get asked again and again are, "what paddle board is right for me" and "what size paddle board do I need". Our sup specialist will help you to find your perfect board type and size to ensure that you are STOKED with your purchase.
Sup Paddles:
The right paddle makes a huge difference in your experience on the water. We will help you get dialed in with the best sup paddle that suits you and your adventure and set you up with a paddle that is customized to fit you. Having the correct paddle size and style of paddle will greatly improve your paddle boarding because you'll experience less stress and expend less effort.
PFD

(personal flotation device):
The US Coast Guard considers a SUP a vessel and as such, you must wear or have strapped on your board a PFD at all times out on your paddle board. We can help you get set up with the perfect sup life jacket so it's safe but not uncomfortable and certainly not a hindrance.
Sup Leashes:
SUP leashes are an important element of your paddleboarding essentials. There are several things to consider depending the type of paddle boarding you will be enjoying. We will help you pick the correct paddle board leash for your board so that your equipment works correctly.
We carry all the best SUP accessories too
There are many activities and styles of stand up paddle boarding. Having the correct paddle board accessories can make your overall experience more enjoyable.
Sup car racks, pads & straps:
Transporting your board to and from the water is an important part of the paddle boarding process. We have everything you need to make your life easier in this department. Some people think that you need an SUV with paddle board racks or a truck to transport a paddle board. That's far from the truth. We can help you get set-up to safely rack your SUP on any car with four doors!
Paddle Board bags/ Sup board covers:
You will also want to have your stand up paddle board protected from the sun and heat during the transporting process with a paddle board cover or bag. Covering your board especially during long drives or trips and for storing will help your paddle boards lifespan substantially longer.
Sup storage racks & wall racks:
Where you store your board is a definite consideration. Limited space? Wall space or suspended better? Lots of boards or one? We have a large variety so there are sup storage options for just your space.
Stand Up Paddle Board carriers:
All the things you need to carry your sup to and from the water. Straps and handles and the things that make carrying your Sup easier.
Dry bags:
There are times when you want to take items out with you while you are on your paddle board. For example, maybe it is a costal day paddle from Newport Beach down to Laguna Beach or between Dana Point and San Clemente or just paddling out to watch the sunset with your date. Dry bag systems will help you keep your belongings dry while allowing you to take extra gear and provisions with you out on the water. You can even take your phone with you and keep it dry and protected.
Sup Fins:
There are different specialized fin options that offer versatility for your sup boards. You can experiment with fins in different sizes and shapes to round out your board for different conditions and performance, and we will guide you on your best suited selection.
Paddle Board Locks:
We carry the best lock systems so you know that when you leave your paddle board strapped to your car, you can walk away knowing it will be there when you get back. On one of your paddle excursions, you and your friends decide to stop in to have lunch at a beach front restaurant, lock your SUP, and enjoy your time without worrying. Peace of mind is a beautiful thing!
Inflatable Paddle Board Accessories
Sup air pumps and everything else you'll need for traveling with an inflatable paddle board.