**WE ARE OFF FOR DEMO DAYS AND WILL START BACK UP IN THE SPRING!
**BUT

, WE ARE AVAILABLE TO BOOK A PRIVATE DEMO FOR ANYONE WHO CAN'T WAIT TILL SPRING!
-------------------------------
WEEKLY PADDLE BOARD DEMO DAYS IN DANA POINT, CA
SUP DEMO DAYS AT DANA POINT HARBOR, BABY BEACH
EVERY SATURDAY 9 AM - 3 PM
CALL FOR MORE INFO! 949-715-7300
If you are going to spend your hard-earned money and quality time on the water, you might as well do it on the best quality boards, for your best quality experience!
Every Saturday at Baby Beach in Dana Point, we have our SUP DEMO DAYS (We are set up on the North side of the beach). You can try out all the different SUP types and models to compare and determine which paddleboard is best suited for you! So if you are just getting into the sport, or are looking to upgrade your beginner board to a real-deal SUP with the latest and greatest lighter, better gliding designs, we can get the perfect SUP TO YOU! We will have our canopy set up at 9 am to 2 pm with demo boards ready to be test ridden. This is the absolute NO-BRAINER way for those who are looking to purchase the right stand up paddle board!

We have the best premium brands in stand up paddle board: SIC, NSP, Surftech, and Quatro, Werner paddle board paddles, FCS paddle board fins, and many more! Demo days give you the opportunity to try all our different premium brands and styles. You can actually test drive the stand up paddle board you are considering buying. You can try them side by side so you can see the differences in how they feel and how they perform for you. You will be able to compare and contrast the stability, responsiveness and performance of the various styles and designs.

Scheduling a time to demo the different boards is a good idea to secure that the paddleboards will be available when you want to test them, you can call us up at 949-715-7300. Figure the water is the most calm in the early morning with less wind making it much easier to paddle while testing out boards. If you show up and the lot is full, just park in one of the other Dana Point Harbor parking lots and jump on the free shuttle that runs up and down the harbor through-out the day.
Here is the link to the Dana Point Harbor Free Shuttle Service:
http://www.danapoint.org/department/public-works-engineering/2019-summer-trolley-service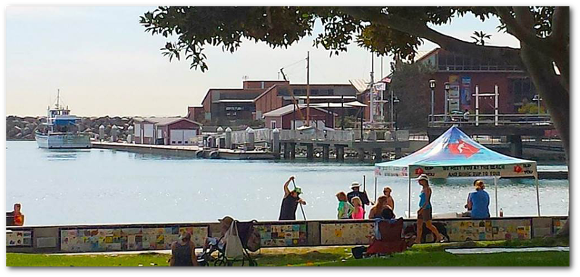 It is a great place for beginners just getting into the sport to try different boards and see how they feel and perform for you on the water. You won't have to randomly buy some sup online and hope it ends up performing for you the way you want. We can help you find the best beginner sup
And this event is also for those who bought their first beginner board and are now ready for the next generation real deal SUP
This is perfect for advanced paddle boarders who want to test drive the boards they are considering buying before they buy
Also perfect if you want to try a completely different kind of sup than you're used to and to see if it would work for you. For instance you can try an inflatable sup if you've never been on one and see how it feels and performs
We have lots of fun at these events; it's a great sup community! Come on down to a beach near you and lets get you perfectly suited for your ultimate SUP!